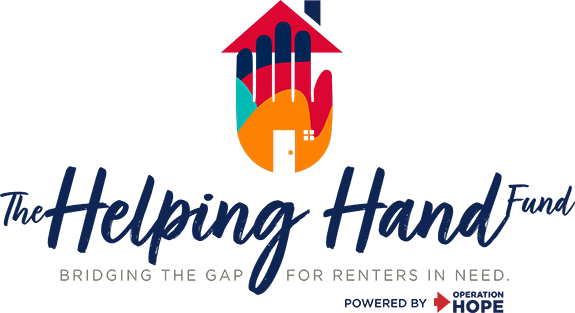 Operation HOPE created the Helping Hand Fund (HHF) to provide an additional tool to help HOPE clients during these financially challenging times. These grants are intended to be "Game Changers" that will significantly help a client (i) meet a temporary financial, rental assistance need, and (ii) better position themselves to achieve the longer term financial plan that their Financial Wellbeing Coach has created with them. The Helping Hand Fund is a one-time emergency program set up specifically for eviction relief for economic hardships caused by the COVID-19 pandemic.  Grants are designated for full or partial rent/lease payments of up to $2,500.
Clients must meet all eligibility requirements before completing an online HHF Grant Application web-form. Grant applications will be reviewed by HOPE management within 72 business hours after receipt.  Once the applicant has successfully completed all stages of the process, grant payments will be paid directly to the Clients' landlord/rental company within fifteen (15) business days.
Applicants must have completed three (3) sessions with a HOPE Financial Wellbeing coach with at least one session falling within the last twelve (12) months.
Applicants must be an active client enrolled in a HOPE program (credit and money management, homeownership or small business/entrepreneurial training).
Applicants must have an established work plan documented and updated within the last twelve (12) months  in their client file co-signed by their HOPE coach.
Applicants must provide documentation of being at least two (2) months delinquent in rental payments for their primary residence and/or must present documentation of pending eviction action against them.
Any individual who has received a grant from HOPE tied to COVID-19 during 2020-21 is not eligible to apply for the Helping Hand grant during the first disbursement period of the program.
Applicants must attest that they are renting from an unrelated party.  The landlord/rental company should not be a friend or family member.
Applicants must agree to allow HOPE to share their story in our social media, blog or other communications and/or agree to participate in recording a video testimonial.
Landlord / Rental company must provide a W-9 directly to Operation HOPE as the IRS requires a 1099 for all rental payments over $600.  W-9 can be found here: (https://www.irs.gov/pub/irs-pdf/fw9.pdf) 
Note: Operation HOPE reserves the right to deny any application based on the review of submitted documentation.