BRINGING HOPE TO LIFE
John's vision of creating a whole new approach to community uplift, rooted in economic empowerment, combating financial illiteracy, restoring dignity, offering redemption, and addressing the critical issues facing corporations and financial institutions today, has driven Operation HOPE since its inception.
"The most dangerous person in the world is one with no hope."
His life work has been to help realize equity of opportunity for all; to equip people in underserved communities with the financial tools and training needed to take ownership of their lives and create a secure financial future.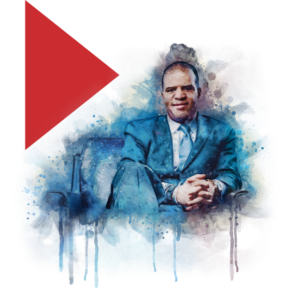 John's entrepreneurial journey began with the visit of a well-dressed banker to his elementary school in Compton, California. The banker came to his class to talk about financial education for young people. John asked the banker what he did for a living and how one could get rich legally. The banker responded that he made loans to entrepreneurs. At that time, John did not know what an entrepreneur was but decided that he was going to be one. From that day, John has been involved in business. Starting his first venture at the age of 10 with a modest $10 investment from his mother, John has been a lifelong entrepreneur who has built more than forty organizations, entities and companies.
"Persistence and resilience are more powerful than pedigree and raw intelligence."
John Hope Bryant is an American entrepreneur, thought leader and philanthropic leader. Referred to as the Conscience of Capitalism by the CEOs of Delta Air Lines, Walmart, First Republic Bank and countless others, John Hope Bryant has been named as Atlanta Business Chronicle's "Most Admired CEO's of 2018", Georgia Trend's "100 Most Influential Georgians in 2022", Atlanta Business Chronicle's "The Power 100: Most Influential Atlantans in 2020", American Banker magazine's 2016 "Innovator of the Year", and one of Time magazine's "50 Leaders for the Future".  John also contributes as a regular guest host on CNBC Squawk Box.
Five former U.S. presidents have recognized his work, and he has served as an advisor to three sitting U.S. presidents from both political parties. He is responsible for financial literacy becoming the official policy of the U.S. federal government.  He has received hundreds of awards and citations for his work, including Oprah Winfrey's Use Your Life Award, and the John Sherman Award for Excellence in Financial Education from the U.S. Department of Treasury.
During the onset of the pandemic of 2020, Bryant was called upon by U.S. Treasury officials to help design, develop and launch the Payroll Protection Program (otherwise known as the PPP program), which helped countless American small businesses and entrepreneurs to survive the 2020-2022 pandemic period.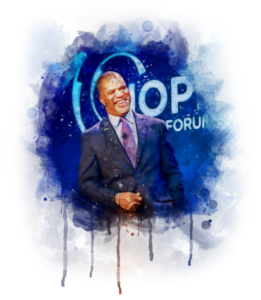 Bryant is the Founder, Chairman, and Chief Executive Officer of Operation HOPE, Inc., the largest not- for-profit and best-in-class provider of financial literacy, financial inclusion and economic empowerment tools and services in the United States for youth and adults. Operation HOPE is acknowledged as one of (No. 34) "Atlanta's 75 Largest Nonprofit Organizations" and was included in the 2017-2018 Book of Lists—a publication of the Atlanta Business Chronicle. Bryant is also chairman and chief executive officer of Bryant Group Ventures and The Promise Homes Company, the largest for-profit minority-controlled owner of institutional-quality, single-family residential rental homes in the U.S.  Both Operation HOPE and The Promise Homes Company have experienced explosive growth under Bryant's leadership, 553% from 2014-2018, and 303% from 2017-2018 to present, respectively.
In January 2016 Bryant became the only private American citizen to inspire the renaming of a building on the White House campus in the nation's history, when the U.S. Treasury Annex Building was renamed the Freedman's Bank Building, in honor of former slaves who put their savings into the Freedman's Bank after the American Civil War. The legacy of the Freedman's Bank, chartered to 'teach freed slaves about money,' and founded by President Abraham Lincoln in 1865, has become the narrative of the continuing work of Operation HOPE—to help all people in the 'Invisible Class' become fully integrated into our nation's economy.
In April 2017, a historical marker, also inspired by Bryant, working alongside friend and HOPE board member Bryan Jordan, Chief Executive Officer of First Horizon Bank in TN, to honor the final flight of Dr. Martin Luther King, Jr. to Memphis on April 3, 1968, was installed at the Memphis International Airport 49 years to the day after that Eastern Flight 381 arrived from Atlanta.
A member of the founding class of The Forum of Young Global Leaders, and founding member of Clinton Global Initiative, Bryant is a LinkedIn Influencer, contributor to Huffington Post, THRIVE Global and Black Enterprise, and a member of the World Economic Forum and OECD Expert Networks. He is one of three co-founders of Global Dignity and co-founder of Just Brothers.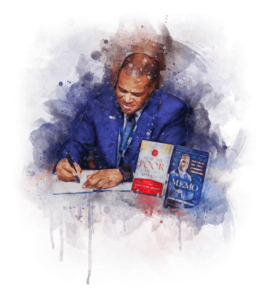 His Facebook Live "Straight Talk with John Hope Bryant", which actively promotes the Silver Rights Movement, has received 40+ million views, and serves as an engaging platform to foster essential discussion in the digital age around financial inclusion and social uplift.  This series led directly to a Facebook sponsored episodic streaming series entitled 'Delivering The Memo', inspired by Bryant's bestselling book, THE MEMO.
He has received hundreds of awards and citations for his work, including Oprah Winfrey's Use Your Life Award, and the John Sherman Award for Excellence in Financial Education from the U.S. Treasury. Bryant received an honorable mention in Inc. magazine's "The World's 10 Top CEOs" article that spotlights global servant leaders as the visionaries behind some of the most successful organizations. Additionally, Operation HOPE and Bryant are a permanent part of the Smithsonian African American Museum in DC. On April 15, 2019, the City of Atlanta City Council and the City of Atlanta (John's home city) named April 15th John Hope Bryant Day.
To download a pdf version of John's bio, click here.
Get connected with John Hope Bryant through

 Books by John Hope Bryant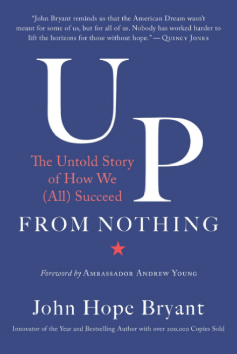 Up From Nothing
"John Hope Bryant brings the lofty ideals of the American dream within the reach of those who have been left out, looked over and locked out of its acquisition. His latest literary deposit, UP FROM NOTHING – The Untold Story of How We All Succeed, will inspire you, but greater still, it will impart to you the tools necessary to greatly enhance your impact!"
– Bishop T. D. Jakes,
C.E.O., TDJ Enterprises, LLP, New York Times best-selling Author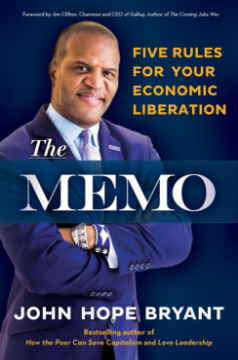 The Memo
"John captures how our world, with its amazing technological advances, has no space for those who procrastinate. To reimagine what is possible, people need more than just access to financial tools and services. The sense of urgency and ownership he describes can help us to put those tools to work to benefit ourselves and ensure that we won't have the Internet of Everything without the Inclusion of Everyone."
– Ajay Banga
President and CEO, MasterCard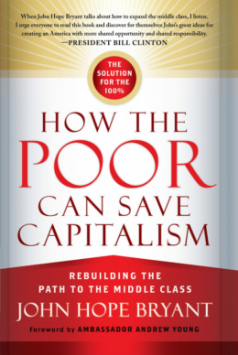 How the Poor Can Save Capitalism
"Bryant's offering is a critically thought-out, comprehensive, and clearly articulated remedy that will advance our suffering and stymied community. And it's written beautifully and boldly from a perspective of deep understanding and compassion and a heart full of love."
– Susan Taylor
Former CEO, Essence magazine, and current CEO, National CARES Mentoring Movement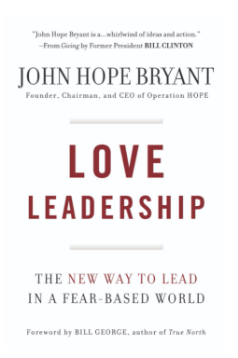 Love Leadership
"The words love and leadership perfectly exemplify John Hope Bryant and all that he stands for. When it comes to making a difference and succeeding in business and life, this book is a must-read for today's current and future leaders."
– Jim Clifton
Chairman and CEO, Gallup, and author of The Coming Jobs War