Edwin W.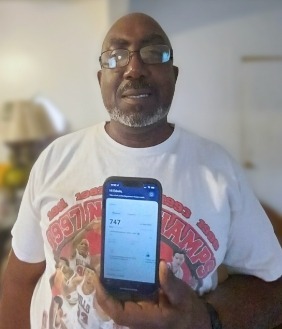 For 20 years, Edwin Walker faced more hardships than most people could handle in a lifetime. Struggling to maintain a steady income and care for his elderly mother, Edwin found himself borrowing money from lender services, pushing him deeper into debt. With a credit score in the low 400's, it was likely that Edwin would never qualify for a loan from his bank.
It wasn't until Edwin met HOPE Financial Wellbeing Coach Milagros Agosto at HOPE Inside SunTrust — Tampa that knew he had been given a second chance at life.
Milagros taught Edwin how to read his credit report and worked with him and collectors to negotiate lower amounts to pay off his debt. After a few months, Edwin began to see his credit score increase but still needed assistance cycling out of using loan services.
Because of the HOPE Credit and Money Management Program, Edwin regained a sense of drive and purpose and began using his skill as a handyman to gain additional income to pay off his debt. He found the money to take care of his mother and has even invested into renovated her home.
At 55, Edwin now has a credit score of 747 and has saved over $3000 in the last year.
---
You can help empower individuals just like Edwin with financial dignity. Visit operationhope.org now to say your one-on purpose with a one-time donation of $25 or more. 100% of your gift is program-focused, providing low and moderate-income youth and adults with the financial education and coaching to create a more secure future.