Founder, Chairman, and CEO
ABOVE ALL ELSE BRYANT IS COMMITTED

Committed to realizing equity of opportunity for all; to equipping people in underserved communities with the financial tools and training needed to take ownership of their lives and create a secure financial future. Committed even to constructing a whole new approach to community uplift rooted in economic empowerment, combatting financial illiteracy, restoring dignity, offering redemption, and also addressing critical issues facing financial institutions today.
An American entrepreneur, author, philanthropist, and prominent thought leader on economic empowerment and financial dignity, Bryant, born on February 6, 1966, in Los Angeles California, learned his lessons on money early in life. He recognized that if you don't understand money, you're essentially enslaved, and that being part of a capitalist system and not knowing the rules, or how things work, means that you aren't included. In large part he owes his early awareness to his parents. "The fact that my mother told me she loved me every day ensured I didn't have a self-esteem problem," he says. "The fact that my dad was a business owner for 54 years gave me a real example of entrepreneurism—so through them I had a sense of both, yes I am, and yes I can." An entrepreneur from childhood, Bryant's awakening was triggered by the visit of a well-dressed white banker to his elementary school in Compton, California. The banker came to his class to talk about financial education for young people, but in a larger spectrum he would represent an aspiration beyond what was typical in Bryant's reality. From that day, Bryant has been involved in business, starting his first venture at the age of 10 with a modest $10 investment from his mother.
Today, Bryant is the founder, chairman, and chief executive officer of Operation HOPE, Inc., a global nonprofit headquartered in Atlanta, birthed just under three decades ago in response to the despair and destruction of the 1992 Los Angeles Riots. Under the banner of "silver rights", Operation HOPE has aided over 4 million individuals worldwide, and directed more than $3.2 billion in economic activity for the disenfranchised—turning check cashing customers into banking customers, renters into homeowners, small business dreamers into small business owners and minimum wage workers into living wage consumers. Bryant is also chairman and chief executive officer of Bryant Group Ventures, founder and principal of The Promise Homes Company, the largest for-profit, minority-controlled, owners of institutional quality, single-family residential rental homes in the U.S. and co-founder of Global Dignity.
His work has been recognized by five past U.S. presidents, and he has served as an advisor to three past sitting U.S. presidents. A member of the founding class of The Forum of Young Global Leaders, and founding member of Clinton Global Initiative, Bryant is a LinkedIn Influencer, contributor to Huffington Post, Black Enterprise, and ThriveGlobal, and a member of the World Economic Forum Expert Network. His Facebook Live "Silver Rights" Straight Talk Series, and "Delivering The Memo" episodic series have received millions of views, and serve as engaging platforms to foster essential discussion in the digital space around financial inclusion and social uplift. He has received over 500 notable awards and citations for his work, including, Oprah Winfrey's Use Your Life Award, and recognition as one of Time magazine's "50 Leaders for the Future," in 1994.
In January 2016, at the request of Bryant, and inspired by the credibility and impact of Operation HOPE, U.S. Secretary of the Treasury Jack Lew renamed the U.S. Treasury Annex Building the Freedman's Bank Building to honor the legacy of the institution established by President Abraham Lincoln more than 150 years ago to create economic opportunity for newly emancipated African-American, and acknowledge the aspirations of people of all races living in underserved communities throughout the nation today to become fully integrated in our nation's economic life. The notable occurrence marks the first time in American history that a building on the White House campus has been renamed.
Bryant is the author of bestsellers The Memo: Five Rules for Your Economic Liberation (Berrett-Koehler), How the Poor Can Save Capitalism: Rebuilding the Path to the Middle Class (Berrett-Koehler), and Love Leadership: The New Way to Lead in a Fear-Based World (Jossey-Bass). His latest book, Up From Nothing: The Untold Story of How We (All) Succeed (Berrett-Koehler) was recently published in October 2020, debuting as the #15 new release on Amazon. A mentor to many, Bryant is dedicated to sharing his failures and successes in life and business to empower the next generation of entrepreneurs and world changers.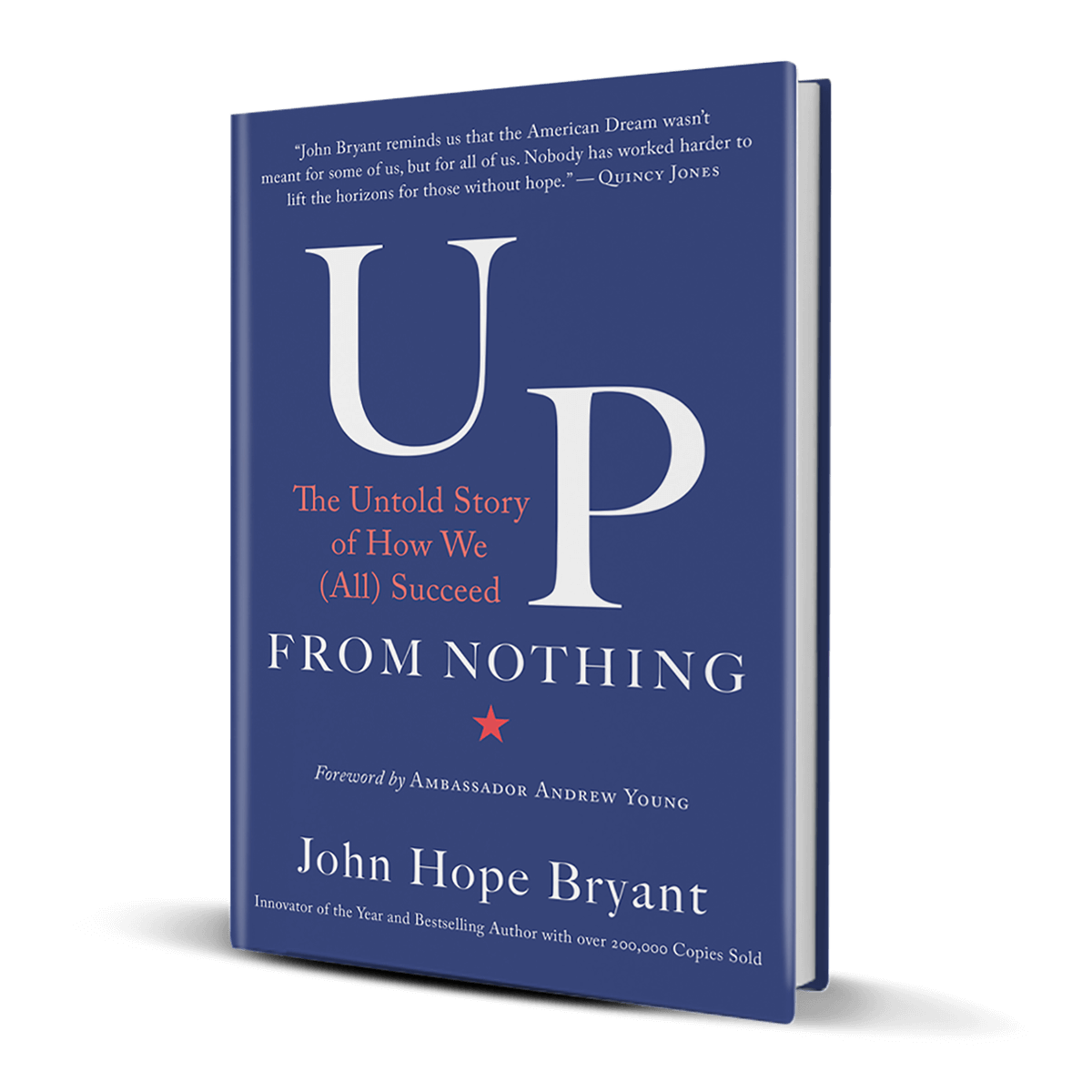 Facing a challenging economy, too many Americans despair of improving their lives. But John Hope Bryant insists that America is still the Land of Opportunity. Up from Nothing revives the forgotten story of the American Dream. It's about our beginnings as a nation of go-getters who believed they were winners before they won.
Using the inspiring story of his own rise from humble beginnings, and that of his parents and grandparents, Bryant shows how individually we can change our mindset from survivor to thriver to winner and move beyond just getting by or being financially independent to becoming wildly successful. Collectively, we need to become a nation of winners once again.
By ensuring that every stakeholder in America has access to the Five Pillars of Success–massive education, financial literacy, strong family structure, self-esteem, and supportive role models–Bryant shows how we can fulfill the promise of America's greatness. But to do so, we must turn away from distractions–such as political in-fighting or racial and class divisions–and focus on what we can control. This is not a book of tips on how to get a better job or make more money. It's about adopting a new way of thinking that will do all that for us and more. Up from Nothing is the new (old) business plan to keep us winning as a country.