The summer of 2020 hit Tyree Farmer hard — mentally, emotionally, and financially.Just a few months prior, he had just graduated from college and was looking forward to growing in his career and getting a head start on life. Then the coronavirus pandemic struck and he lost his job and his only source of income.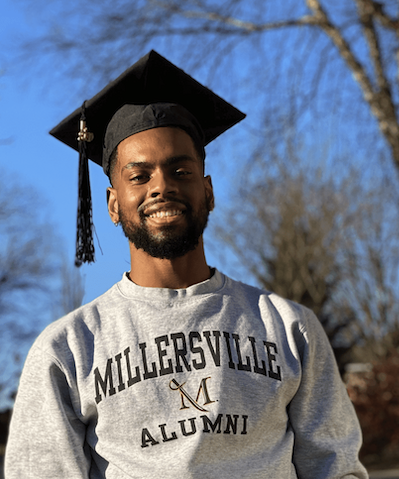 "Losing my job because of the virus left me with a lot of time to highlight exactly what I needed to finally take hold of in my financial circumstances. Receiving unemployment to get by made me realize how ill-equipped I was to do right by my money. I was tired of running from it and decided to seek help for change," Tyree said.
That's when he discovered Operation HOPE.
"I actually stumbled upon the organization through Eventbrite, but, I had no expectations. I was simply in search of an opportunity to become better financially, and God sent me an answered prayer in the form of Regina Osei and Operation HOPE."
At first, Tyree was hesitant because he lived in Philadelphia and Regina's HOPE Inside branch was with Trustmark Bank is based in Memphis, TN. However, those doubts quickly dissipated. From the very first Zoom session he had with Regina, he felt the a sense of calm, relief, and assurance that he hadn't had before. "My coach Regina has been a blessing to my life," he said. "Even now, she continues to pour her wisdom into me with information that she sends regularly."
Initially, Tyree had little to no knowledge about credit or where his credit score stood. Regina walked alongside Tyree to not only help him understand credit in a practical and easy to grasp way, but she also helped him feel less intimidated by it. He wanted to face his scores directly and grow towards a 700 credit score higher.
When Tyree entered the program, his credit score was 644 and he had nearly $45,000 in debt. During his time with working with Regina he learned how to leverage his credit cards as a credit-building tool rather than a liability. He also learned how to snowball his debt as a way to pay it down quickly and efficiently while building financial confidence. Now, thanks to his coach's guidance, his credit score has increased, he has saved more than $3,000, and has decreased his debt by $11,000!
Tyree is now headed in the right direction and is on the road to joining the 700-Credit-Score-Community and has a transformed mindset and approach to his finances.