Legislators Honor HOPE's Thirty-Year Commitment to Empowering Underserved Communities Through Financial Literacy and Entrepreneurship
ATLANTA— On Thursday, March 16, 2023, Operation HOPE's Founder, Chairman and CEO, John Hope Bryant, was presented a Resolution in the House Chamber during the 2023 Georgia Legislative Session. State Representative Dexter Sharper applauded Bryant for his ongoing efforts to empower underserved communities through financial literacy and other programs to help build generational wealth. Bryant was also recognized as an American entrepreneur, thought leader, and philanthropist. He was joined by family members and the HOPE leadership team.
Operation HOPE's mission is to disrupt poverty for millions of low and moderate-income families across the nation with a focus on financial dignity and inclusion. The Atlanta-based organization provides communities with free credit and money management education and one-on-one counseling with a trained, experienced individual financial coach. Outreach also equips young people and adults with financial tools and education to help secure a better future.
The resolution commending Bryant recognizes his three decades of service, including but not limited to, establishing the 1 Million Black Businesses Initiative (1MBB) to increase Black entrepreneurship, the annual HOPE Global Forums, and Financial Literacy for All (FL4A), a collaborative education effort, which is supported by a number of Fortune 500 companies nationwide. Bryant has been referred to as the 'Conscience of Capitalism' by the CEOs of Delta Air Lines, Walmart, First Republic Bank, and countless other business leaders.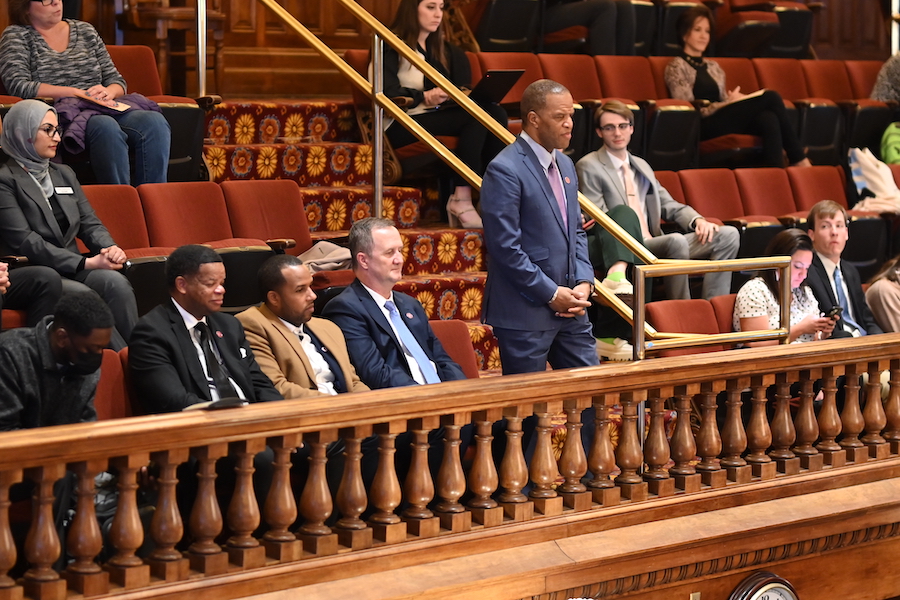 "John Hope Bryant is a person of magnanimous strengths with an unimpeachable reputation for integrity, intelligence, fairness, and kindness," Representative Sharper notes in the resolution. "It is abundantly fitting and proper that the outstanding accomplishments of this remarkable and distinguished Georgian be appropriately recognized."
Operation HOPE is now the largest financial literacy organization in America with more than 200 HOPE Inside offices in 46 states, and the Promise Homes became the largest minority-controlled single-family home rental company in the nation. Collectively, Bryant's organizations have served over 4 million individuals and directed more than $3.5 billion in capital for the underserved over the past 30 years.
"It's truly an honor to be recognized by Representative Sharper and members of the House. This is meaningful work and I intend to continue serving as many individuals and families as possible – especially our youth," said Bryant. "I look forward to working with other leaders in the public and private sector to help educate, uplift and change financial outcomes in all of our communities."
In addition to being honored by organizations around the world for his influential impact on advancing financial literacy, five former United States presidents have recognized Bryant's work. He has served as an advisor to three sitting US presidents from both political parties and continues to advise leaders across a variety of industries. During the onset of the COVID-19 pandemic, Bryant was also called upon by US Treasury officials to help design, develop, and launch the Payroll Protection Program (PPP), which helped countless American small businesses and entrepreneurs survive uncertain times.
About Operation HOPE, Inc.
Since 1992, Operation HOPE has been moving America from civil rights to "silver rights" with the mission of making free enterprise and capitalism work for the underserved—disrupting poverty for millions of low and moderate-income youth and adults across the nation. For more information: OperationHOPE.org. Connect and follow the HOPE conversation on Facebook, Instagram, LinkedIn and Twitter.
###
Media Contact:
Lalohni Campbell, for Operation HOPE
404-593-7145