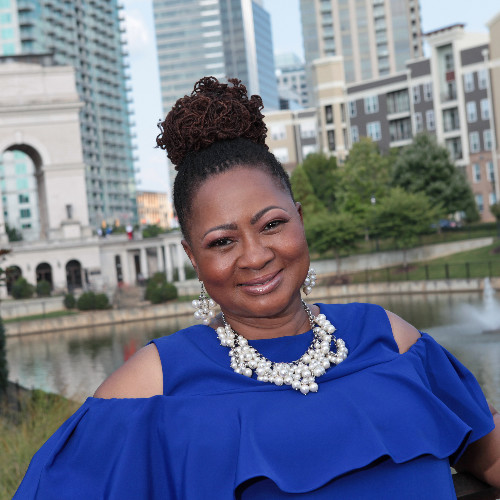 Virginia Baket-Jeffcoat joined the Operation HOPE family in December, 2020 when she enrolled in the Entrepreneurial Training Program (ETP) facilitated by Ms. Judie Hayes, her financial wellbeing coach. Virginia has years of small business experience as the owner and lead consultant for VB Consulting Group, LLC, a minority woman-owned consulting firm in Decatur, GA whose mission is to assess, empower, and sustain early care and education programs, non-profits, individuals and community and faith-based organizations through quality training, technical assistance, career coaching and capacity building opportunities. Although she had the experience, she recognized that she needed a little bit of help and structure to get her to the next phase of her entrepreneurial journey. She came to understand that leaning on others with an expertise in small business development would be a tremendous asset to her venture and would add to her wealth of knowledge.
Judie helped Virginia revise her business plan to be in position to scale and offered great insight into how her business foundations could be even stronger. Though the program, Virginia had opportunity to re-think her niche, get clarity on my customer base, get coaching on pricing her services and learn about the multitude of business resources that were available to her. Aside from the technical assistance, she also found community and collaboration among her cohort of small business owners who were also undergoing growth and transformation in the program.
Gaining new business knowledge and a tribe of supporters was only one aspect of Virginia's experience in the ETP course. She found in Judie an accountability partner and consultant to keep her on track with her goals and progress. "My monthly check-ins with Ms. Hayes were very valuable in that she was very encouraging, but held me accountable for my business goals," Virginia said. "It was great to have a "thought partner" that pushed me to think outside of the box. Ms. Hayes reminded me that I have what it takes to be a successful entrepreneur and to stand in my worth."
As the result of Judie's coaching and the pair working on appropriately pricing and valuing her services, Virginia just landed a training contract with the Georgia Department of Early Care and Learning at a great rate!
You can learn more about HOPE's training for existing and aspiring small business owners by finding a small business coach near you and visit hope1mbb.org to learn more about our goal of standing up 1 million Black owned businesses by 2030.